After renewing my Sally Beauty Club card, I had a 5 dollar gift certificate to use in store, so I decided to pick up a Cina nail art pen. Mainly, I wanted to try doing a leopard manicure and I wanted the precision of using a pen versus a skinny nail brush, like on my Art Deco nail art polishes.
Shake pen and depress nib to freshen the nib with nail polish before each use.
Nib? Who decided to call it that? What about tip? Okay...anyway.
Basically its like a marker with nail polish in it! Awesome concept, bad execution. Like a cheap dollar store maker, it seemed to dry up and run out of polish, even after shaking it several times. Fail. Especially since this was my FIRST time using it. I tried shaking it and waiting a bit between each nail, but I was still not able to complete a whole design without the design fading or starting to get lighter.
Here's the finished product: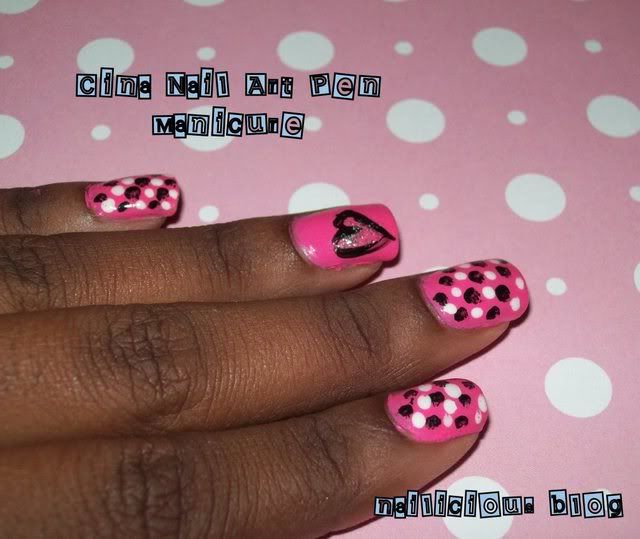 Cina, see you later! If I want to use this again, I'll probably have to let it rest for a day or two. But even then I'm not so sure this has what it takes to complete my nail art designs.
♥ Lachelle